Tristan
On our first date in late August of 2015, we talked about children. As gay men, we both grew up thinking that we would never have kids, even though we both longed to be dads. Adam wanted a big family full of kids and Shawn wanted a smaller family with a couple of kids. We decided on three: two biological children through surrogacy and one through adoption. Both Adam and Shawn work in special education, so we knew that we wanted to adopt a child with special needs and wanted that child to be our third, but had not decided what those needs would be and would figure that out at a different time. Due to costs and legalities, we determined that surrogacy was not going to work out.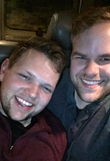 In November of 2018, we married in a beautiful ceremony full of our closest friends and family. It was, at the time, the highlight of both of our lives. Shortly after our wedding, we began to look into adoption, but knew that we wanted to get some things done first; Shawn wanted to finish college, we wanted to pay off some debts and have our honeymoon that March. However, the universe had other plans.
In January of 2019, we heard of a little boy who might need a home. At the time, we did not think anything about it and let it go (as best as we could– it was always on our minds). However, both Adam and Shawn could not stop thinking about this little boy: especially because Shawn worked at the daycare that this boy, our future son, attended and he saw this boy every day.
Adam and Shawn went to Seattle in March for their honeymoon and had quite a bit of time to talk about our future. Things were still up in the air with this child, but we decided that it was time to pursue adoption and see what would happen.
Over the next several months, we met his biological grandma and started getting to know her and the child, Gabriel, more. We connected right away and we all felt like this would work.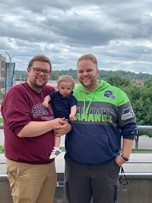 In July of 2019, we decided to start the adoption process through a company, because we knew it would be a long journey and we knew we were okay with having two children close together in age, especially as Gabriel approached his first birthday. This is when we began juggling the potential of having two children and were so excited. The road was indeed long for both adoption potentials, but in February of 2020, we matched with a birth mom from Texas. Her baby was due in August, but ultimately ended up being a heartbreaking adoption scam the day after he was born.
In July of 2020 we finalized the adoption of Gabriel and that was the new best moment of our lives. There were more happy tears that day than on any other day we had been together. We were finally a family of 3.
During the next couple of months, many family members and friends asked why we weren't looking to adopt a child with special needs. We always just said "we aren't ready for that just yet."
In January of 2021, after not hearing anything about any adoptions, we were asked to present to a mom who was pregnant with a child with Down syndrome. For some reason, we said "yes" without even thinking, but it did not pan out. It was that moment that told us that we were ready to look into adopting a child with special needs.
After some research we found the National Down Syndrome Adoption Network (NDSAN) and Stephanie Thompson. We asked Stephanie probably 800 questions, but she never once told us to stop and answered every single question. While we had not specifically seen any LGBTQ+ families on the website, Stephanie reassured us that the NDSAN absolutely works with LGBTQ+ couples and have had children placed successfully. We never felt discriminated against, nor did we feel like the NDSAN was holding back opportunities for us to apply for.
In July of 2021, we had two situations presented to us back-to-back. We said "yes" to both of them. It turned out that the second situation in July was "the one." We had matched with a birth mom in Ohio who was due in the next couple of months. We had a phone conference with her and anxiously awaited to hear if she wanted to move forward or not.
Not even five minutes after our phone conference, Stephanie called us and asked how we thought it went. We told her we thought it went well, but that we could tell it was a bit awkward, so we could understand if she didn't want to move forward. She interrupted us and said "well, I have to say…. CONGRATULATIONS! She wants you to be his parents." In a matter of five minutes, our whole world changed.
We announced it to our family, but kept it on the down low from everyone else, because of what had happened just shy of a year earlier. However, this felt "right." We cannot explain it, but we knew this was meant to be our baby. We spoke with his mom frequently and got updates and ultrasounds, etc.
On September 10th, his expectant mother text us saying they were admitting her and we might want to consider making our way towards Ohio (we were driving from Iowa, because of the COVID restrictions). We drove three of the ten hours that night and awaited the phone call in the morning. The next morning, the phone call was different; "I'm not leaving pregnant" was all we needed to hear to finish our drive. Things seemed to be happening quickly, but we were determined not to miss the birth.
We got to Ohio in the evening of September 11th and got to join the expectant mother in her room as we waited for baby boy to arrive. For the next seven hours, we chatted and got to know the expectant mom and it was like we were best friends. We clicked right away.
All of a sudden around 1:00 am on September 12th, things started moving quickly. Baby boy was born at 2:35 am and Adam got to cut the umbilical cord, a memory he won't forget. Baby boy was immediately taken to the NICU to get on oxygen, etc. About an hour later, we got to see our baby boy, who was then named "Tristan," a name that the birth mother agreed would be perfect for him. Our Tristan was finally here. We cried tears of joy as we saw him, wires and all, and asked the nurses more questions than they probably wanted to answer. They were so kind and reassuring that he was doing well and that we would be able to hold him soon. We barely slept that night, but the nurses insisted we sleep so we could take on the next day, as there would be quite a bit of medical information and they wanted us to be ready to take it all in.
The next three weeks we spent in the NICU with Tristan as he had to have a heart surgery to place a Pulmonary Artery band on his heart at 9 days old (9/21 for anyone keeping track). The staff at Akron Children's Hospital was absolutely amazing and we were so blessed to be there and to be taken care of. During that time, Tristan and Gabriel got to Facetime each other. We missed Gabriel so much, but he was in good hands! Gabriel was so excited to be a big brother and could not wait to meet Tristan.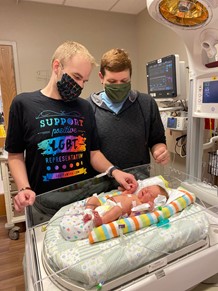 We were so excited when ICPC paperwork came back and Tristan's medical team said he could be discharged all within hours of each other. We started the long car ride home. It was all worth it when we walked in the door and Gabriel came running up to us, ran past us and went to hug Tristan. That was the best welcome home Tristan could have had.

Our first picture as a family of 4!
We are enjoying our time with Tristan and are learning how to be dads to a newborn. We have enjoyed many firsts– first car ride, first Halloween, first Thanksgiving, first Christmas, first New Year, first time holding his head up and so much more. If it wasn't for Stephanie and the NDSAN we would not be where we are today, enjoying our family of 4 and loving every single second of it. If you are hesitant about it, we understand, but don't wait too long…. your "Tristan" is out there waiting for you.